As with previous years, we have continued our EXEDY CUP OPTION2 edurance race series to bring fun and excitement with local competition.
Round one was held on March 5th at Central Circuit in Hyogo prefecture where many private teams as well as shops were gathered making the season opener a fierce battle.

Many race watchers as well as participants came to visit our EXEDY booth where they had a chance to participate in our lottery game hosted by the EXEDY RACING GIRLS for a chance to take home some EXEDY merchandise as well as see our lineup of racing clutches.

For the 2011 season of the EXEDY CUP OPTION2 series we have scheduled the UNLIMITED class to race in the first, third and fifth rounds of the season. S-ENDURANCE will include SPRINT and SEMI class as well as FRESHMAN class to be held on the second and fourth rounds of the season. We promise hard fought battles throughout all rounds from beginner to expert classes!
The weather was optimal for racing, cool temperatures that would be gentle on the engines and a dry tarmac for good grip. Eventhough the weather was on the participants side, mechanical woes had claimed multiple teams during the free practice session with engine troubles. The atmosphere of the open track is usually a comfortable time for people to check settings and get seat time, but round one was already forcing teams to muster and mend their vehicles before the race had even started.
Within the 3 hours to the final lap, the machines from the unlimited class had devastated all other classes and occupied the race with dog-fight like passing and grueling intensity.
Pit road held another war as teams hurried to refuel and change drivers as throughout the race there were 4 yellow flags that brought out the safety car due to mechanical failure of cars on the track.
The winner of the 3 hour battle of the opening race in 2011 was the #1. Congratulations on their victory within the first round!
UNLIMITED Class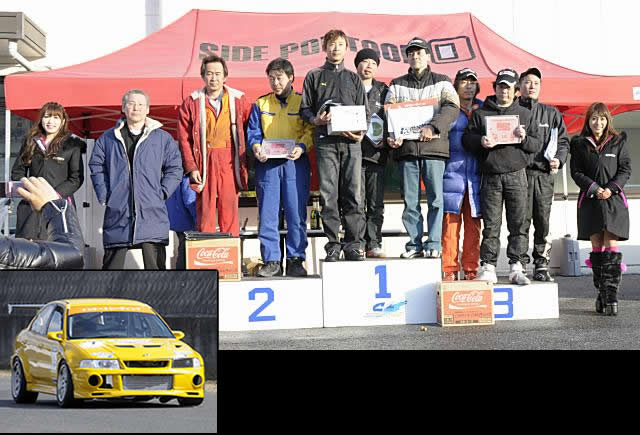 First place: #1
Second place: #10
Third place: #78
EXPERT NA Class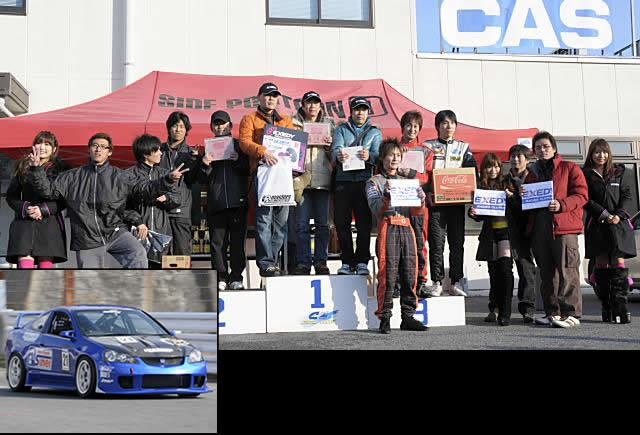 First place: #21
Second place: #20
Third place: #23
The #21 was granted an "EXEDY HYPER SINGLE" as a prize from EXEDY for finishing first in the EXPERT NA class.
EXPERT TURBO Class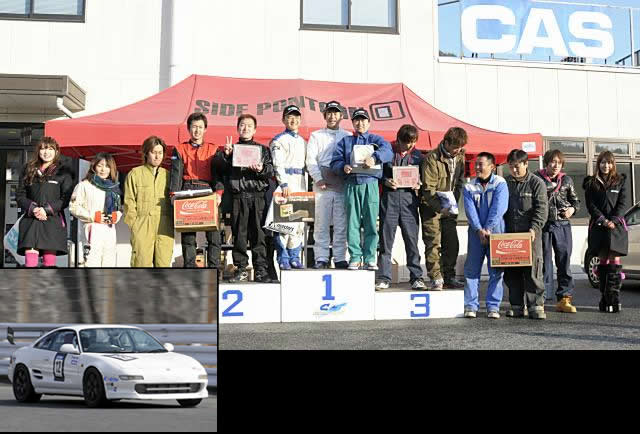 First place: #12
Second place: #3
Third place: #14
COMPACT NA Class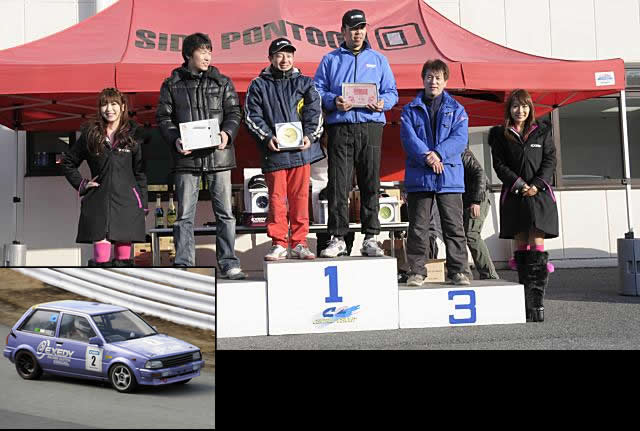 First place: #2
To see more coverage please visit the link "Photo & Movie page" where all photo and data of this racing event can be downloaded so please feel free to use a photo as a nice wallpaper for your desktop!

We are happy to have had such an enjoyable round one of the EXEDY CUP OPTION2 edurance race series with much entertainment, excitement and fun. Overall, we would like to extend our thanks to all participates in the race and invite all to join us for the next round!
The second round will be held on April 16th at Central Circuit for FRESHMAN class and new S-ENDURANCE class where we will have a SPRINT and SEMI-ENDURANCE class race. As many as 48 cars can be participate, so registration should be done sooner than later. We would like to invite many to challenge and join the 2nd round as the minimum requirement is a normal driver license so please organize your private team and come join the fun with all of us on April 16th.
Please check the Side Pontoon website for race entry registration.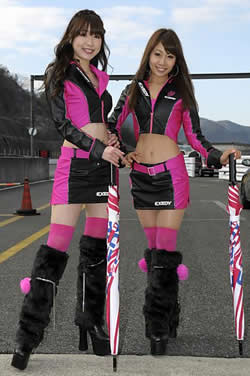 Ami Otsuka (left) and Rie Ukai (right)

These two beauties are EXEDY RACING GIRLS and were showing their support on pit road and in the EXEDY booth working the lottery game. Their indispensible smile warmed up many on the cold race day where they were available to talk to and take pictures with. Be sure to stop by and say hello and the next event. Don't miss it!