At Hyogo's Central Circuit, the EXEDY Cup Option2 Endurance Rd. 2 took place on August 11th, 2012 where the drivers race three hours straight through the humid summer heat.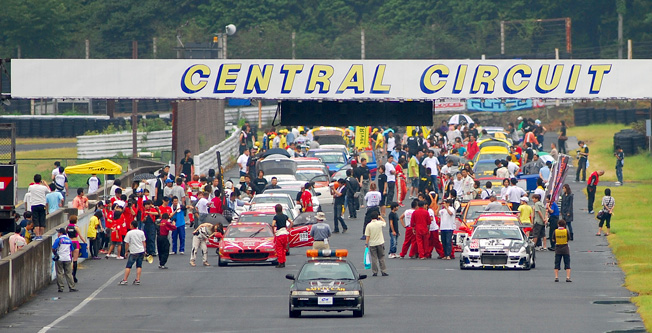 Although the skies were cloudy and the event was greeted with some light rain, over 35 entrant teams came together for the event. In collaboration with the race a multiple of other events were held as an RX-8 owners meeting was held as "The West Japan 8 Day" and there were also drag races held after the endurance race. This mixture of events made one unique paddock walking experience as the different purpose-built cars ranged widely.
The EXEDY booth had on display the Lancer Demo using the Hyper Single VF as well as EXEDY merchandise that was raffled from the always popular lucky draw game.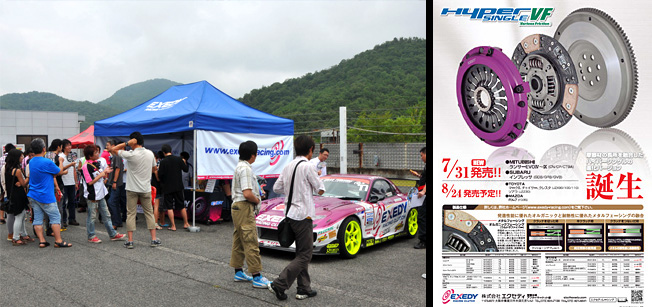 The begging of the endurance race has many ups and downs as soon as the rolling start was under way, the pole position car leading the pack had spun in the first corner also taking out the second position car. This was only the beginning of the excitement of three hour endurance race that would test the nerves, skill and patients of all drivers and teams crews!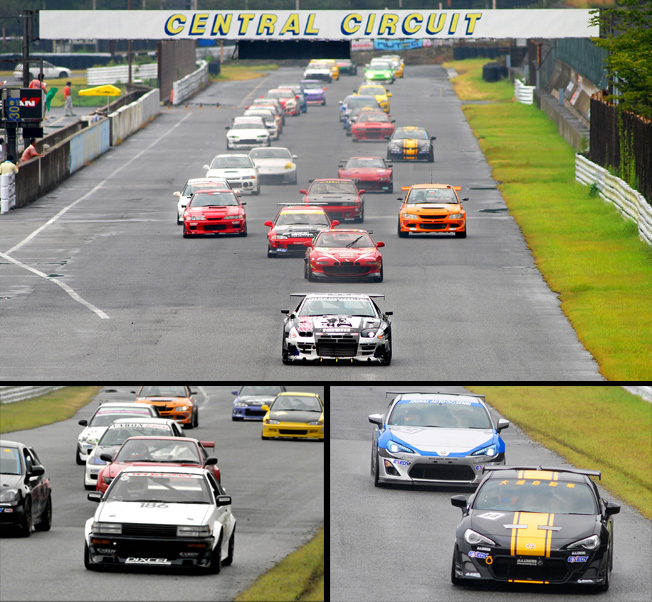 There were two new Toyota 86 that were entered in this round that were they drove wheel-to-wheel with their older generation AE86. However, this round of racing belong to the Tochigi Sakamoto Engineering as they drove three faultless hours of hard racing to claim their victory!
Congratulations and thank you very much for making the long trip from Tochigi-ken to run in our race!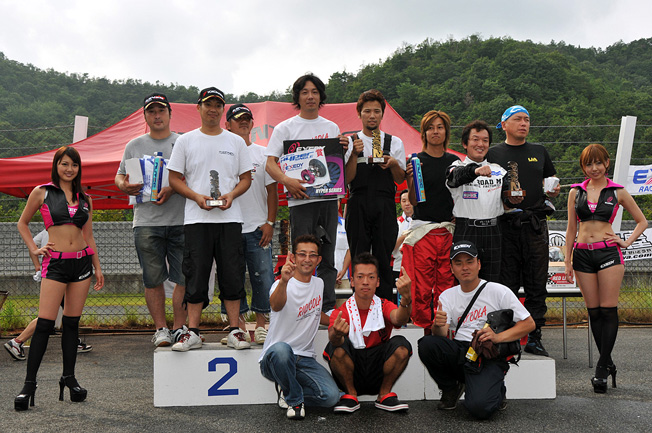 | | | |
| --- | --- | --- |
| First place: | #28(FD3S) | Tochigi Sakamoto Engineering |
| Second place: | #8(GD3) | NIWA RACING Advan FIT |
| Third place: | #3(Z15A) | Pit Road M Bruce GTO Motty's |
The winning team, Tochigi Sakamoto Engineering was presented with an EXEDY Hyper Single for their congratulatory prize!
The results of the other competing entrants can be found here.


Click on the following link for access to more photos and downloadable files.
"MOTOR SPORTS SUPPORT / Photo & Movie"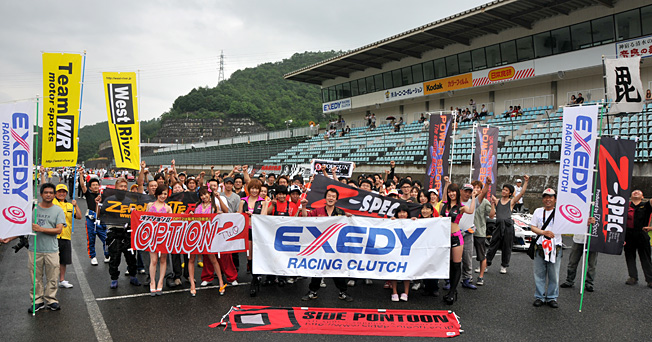 Thanks to all those who have participated to make a fun and exciting third round of the EXEDY CUP OPTION2 Endurance Race Series!!
The next race will be October 13th, 2012 at Central Circuit for another 3 hour endurance race!
Participation only requires a regular driver's license, allowing anyone to participate in the fun and competition of wheel to wheel endurance racing.
Please visit the SIDE PONTOON homepage for entry.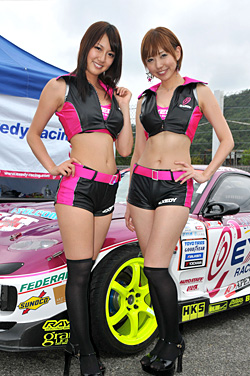 Ruri Hanai (Left) and Sayuri Kawahara (Right)

The EXEDY RACING GIRLS were out on pit road as all drivers took the track as well as were in the EXEDY booth attending the lottery game, selling EXEDY merchandise and collection donations with their bright smiles livening up the track atmosphere.