Female university student and racecar driver gets supported by EXEDY for the 2011 Super FJ Clubman race season!
Currently a third year student at Osaka Sangyo University, Ms. Ai Miura will be sponsored by EXEDY for her first appearance in the Super FJ class in 2011.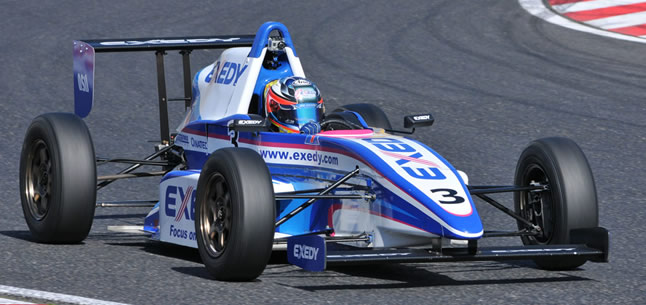 Ms. Miura's driving career started with cart racing at 12 years old. From then she has moved on to win 14 races including a win in her career debut race. With her ongoing performance, she is showing herself as one of Japan's most talented female drivers.
Furthermore, Ai pilots her university's solar powered racecar in the FIA Solar Car Race held at Suzuka where she has won the race 2 years in a row.

The opening race of the 2011 Suzuka Clubman Race was held on Mar. 6th 2011 at Suzuka's west course where Miura made her debut in formula racing.
In total, 21 racing teams competed over a fierce race where Ms. Miura was the only female driver to battle with other male drivers. Miura's result was 7th in qualifying and she finished the end of the race in 8th place, which we all congratulate her for a well fought result in her first race.

Please follow Ms. Ai Miura through the 2011 season and join us in wishing her the best of luck.
2011 Super FJ Suzuka series race schedule
Rd 1
Mar. 6th
Suzuka Clubman Race Round1
Q:7th, F:8th, in 21teams
Rd 2
Apr. 10th
2011 Suzuka Clubman Race Round2
Rd 3
May. 8th
2011 Suzuka Clubman Race Round3
Rd 4
Jul. 9-10th
2011 Suzuka Clubman Race Round4, Endurance Stage
Rd 5
Sep.18th
2011 Suzuka Clubman Race Round5
Rd 6
Oct.16th
2011 Suzuka Clubman Race Round6
Rd 7
Dec.10-11th
2011 Suzuka Clubman Race FINAL Round & S-FJ Championship