Ms. Ai Miura, female college student and driver, finished 8th place in the second round!
TThe second round of the 2011 Suzuka Clubman Series was held on April 10th at Suzuka Circuit's west course. In between studies, Ms. Ai Miura, an Osaka college student and EXEDY sponsored driver competed in her second Super FJ race.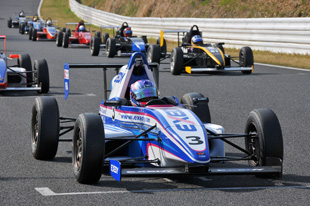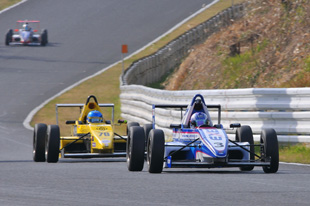 Increasing to the already fierce competition, an additional 5 teams from the Kanto area joined the 2011 season's second round to bring the total number of participanting teams to 26. Ms. Miura generated her best lap time and qualified in at 11th place. She made a rocket start and had made her way through the field to 6th place during the 3rd lap. When the checkered flag had waved, Ai had finished with a well fought 8th position out of 26 contenders.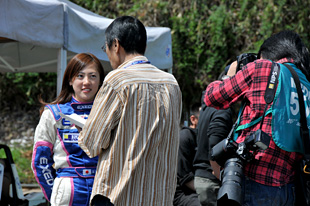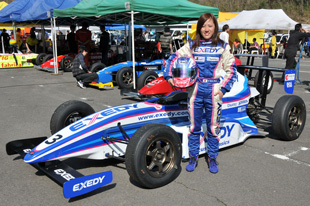 Ms. Miura attracted much more attention than before, this time not only from boys but also girls eager to talk to the talented female student and driver. Furthermore, media press of all types were covering her as she was interviewed from sports magazines, news and a FM radio station.
Please follow Ms. Ai Miura through the 2011 season and join us in wishing her the best of luck.
2011 Super FJ Suzuka series race schedule
Rd 1
Mar. 6th
Suzuka Clubman Race Round1
Q:7th, F:8th, in 21teams
Rd 2
Apr. 10th
2011 Suzuka Clubman Race Round2
Q:11th, F:8th, in 26teams
Rd 3
May. 8th
2011 Suzuka Clubman Race Round3
Rd 4
Jul. 9-10th
2011 Suzuka Clubman Race Round4, Endurance Stage
Rd 5
Sep.18th
2011 Suzuka Clubman Race Round5
Rd 6
Oct.16th
2011 Suzuka Clubman Race Round6
Rd 7
Dec.10-11th
2011 Suzuka Clubman Race FINAL Round & S-FJ Championship