Kenji Takayama Makes it to Third Frame at the D1 Grand Prix Rd.2 with a 5th Place Finish!
Initially postponed by March's earthquake, the 2011 D1 Grand Prix Round 2 was held on June 5th at the Tokyo Odaiba parking lot course. The EXEDY supported R Magic D1 Racing team and driver Kenji Takayama performed great all weekend.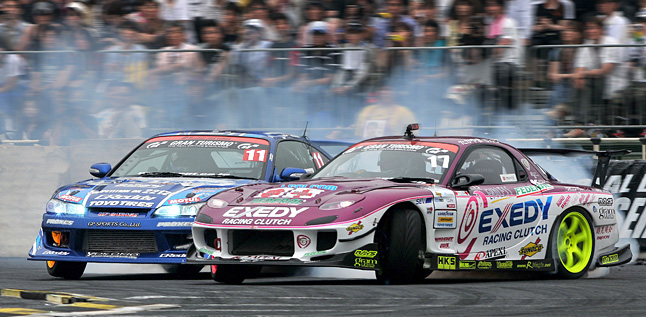 Battling in the Third Frame
Takayama was ranked in at 17th in this years point standings but due to his performance and speed this past round he will be moved up three places in the ranks.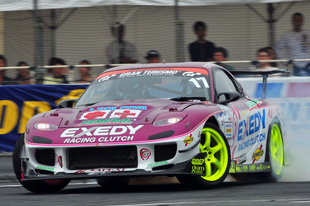 Single Run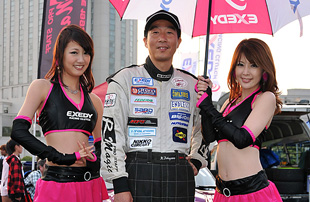 Kenji Takayama (Center)
The next round will be on June 26th at the Okayama International Circuit. Please join us in support for the next round!
2011 D1 GRAND PRIX SCHEDULE
| Rd | Date | Circuit | Single run | Tandem | Total |
| --- | --- | --- | --- | --- | --- |
| Round 3 | 4/24 | Autopolis(Oita Pref) | 15th place | Discontinued | 15th place |
| Round 4 | 5/22 | Suzuka Circuit(Mie Pref) | 18th place | BEST24 | 17th place |
| Round 1 | 6/4 | Odaiba(Tokyo Pref) | 26th place | DNQ | - |
| Round 2 | 6/5 | Odaiba(Tokyo Pref) | 17th place | 3rd place | 5th place |
| Round 5 | 6/26 | Okayama International Circuit(Okayama Pref) | | | |
| Round 6 | 8/6 | Ebisu Circuit South Cource(Fukushima Pref) | | | |
| Round 7 | 8/7 | Ebisu Circuit South Cource(Fukushima Pref) | | | |
| Round 8 | 10/23 | Fuji Speedway(Shizuoka Pref) | | | |