Ben Spies Takes First Win at MotoGP 7th Round for the YAMAHA FACTORY RACING Team.
The EXEDY supported YAMAHA FACTORY RACING TEAM's rider Ben Spies had taken his first win in MotoGP on June 26th 2011 at the 7th round, Assens.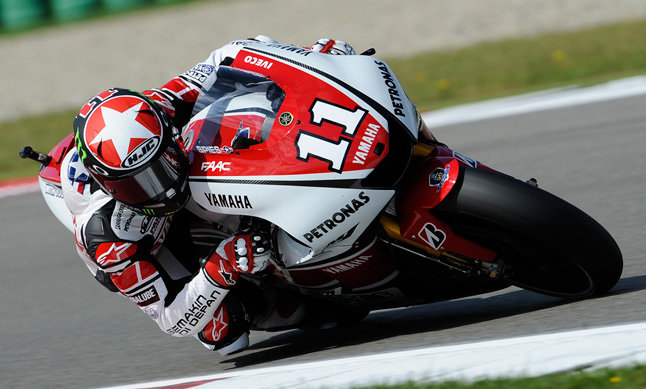 As the YAMAHA FACTORY RACING team showed celebration of their 50th anniversary by changing the color's on their bikes, Ben Spies delivered a spot-on performance all weekend for the team. Just missing the pole position by .009 seconds, Spies started from the number two position but quickly gained the lead in the first corner and remained untouched for the remainder of the race finishing 7 seconds before the second place rider.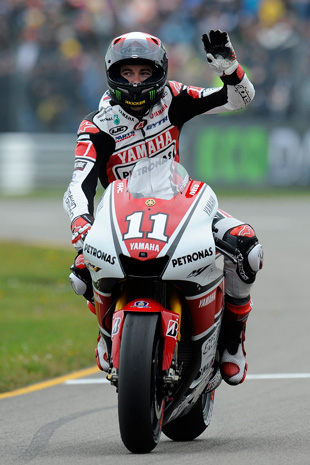 Ben Spies responding to the fan's cheers.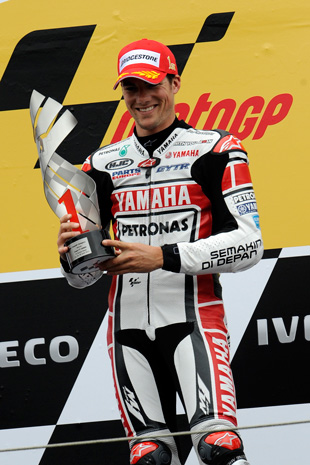 Ben Spies on the podium.
Teammate Jorge Lorenzo had crossed the checkered flag in 6th place.
MotoGP2011 Race Schedule
Race
Date
Jorge Lorenzo
Ben Spies
Rd.1
Qatar GP
3/20
2nd place
6th place
Rd.2
Spanish GP
4/3
Winner
DNF
Rd.3
Portuguese GP
5/1
2nd place
DNF
Rd.4
French GP
5/15
4th place
6th place
Rd.5
Catalunya GP
6/5
2nd place
3rd place
Rd.6
British GP
6/12
DNF
DNF
Rd.7
Dutch TT
6/25
6th place
Winner
Rd.8
Italian GP
7/3
Rd.9
German GP
7/17
Rd.10
United States GP
7/24
Rd.11
Czech GP
8/14
Rd.12
Indianapolis GP
8/28
Rd.13
San Marino GP
9/4
Rd.14
Aragon GP
9/18
Rd.15
Japan GP
10/2
Rd.16
Australian GP
10/16
Rd.17
Malaysian GP
10/23
Rd.18
Valencian GP
11/6