ZENT CERUMO SC430 wins Round 1 of Super GT.
On April 1st 2012, the Okayama International Circuit held the 2012 AUTOBACS SUPER GT Round 1 Okayama GT 300km race as the EXEDY sponsored ZENT CERUMO SC430 took first place by a lead of .588 seconds from second place. The race was close from start to finish as drivers Tachikawa and Hirate drove an outstanding race.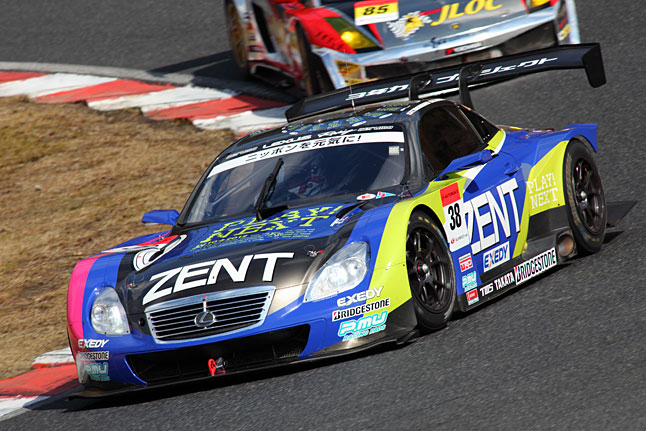 During qualifying, driver Tachikawa landed the ZENT CERUMO SC430 the first place position on the starting grid with his flawless pole-position performance. The teams combined work lead them to take the checkered flag at the end of the first round race.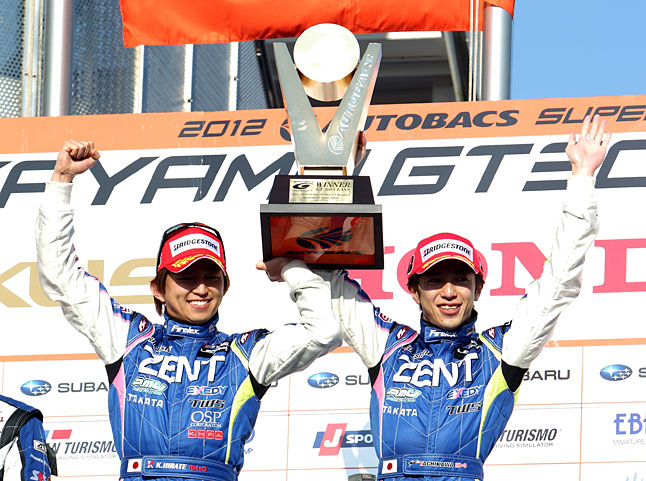 Drivers Hirate (left)and Tachikawa (right) on the podium.
SUPER GT 2012 Race Schedule
| Race | Date | Circuit | Result |
| --- | --- | --- | --- |
| Rd.1 | April 1st | Okayama | Winner |
| Rd.2 | May 4th | Fuji | |
| Rd.3 | June 10th | Sepang | |
| Rd.4 | July 29th | SUGO | |
| Rd.5 | August 19th | Suzuka | |
| Rd.6 | September 9th | Fuji | |
| Rd.7 | September 30th | Autopolis | |
| Rd.8 | October 28th | Motegi | |
| SP Stage | November 18th | Fuji | |