J. Lorenzo of the Yamaha Factory Racing is the 2012 MotoGP Series Champion!
Round 17 of MotoGP was held in Australia on October 28th, 2012, where J. Lorenzo raced his way to second place for the EXEDY sponsored Yamaha Factory Racing team. From his accumulated points in his second place finish, the Spaniard was able to clinch the series championship for his second time.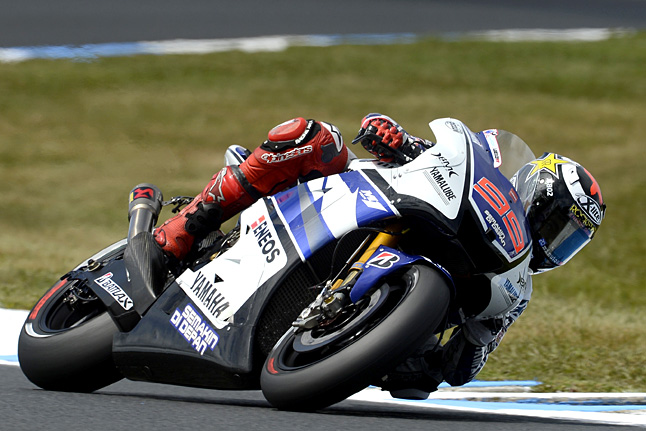 This season's 17 rounds were dominated by Lorenzo as he accumulated 6 first-place finishes and 10 second-place finishes. His skill was unmatched this season as he marched his way to become the series champion.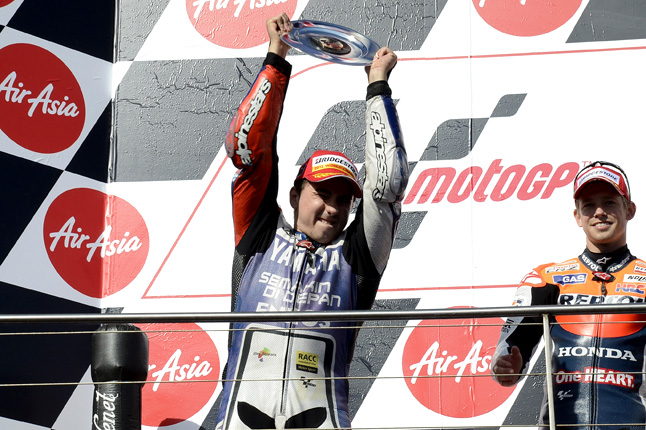 Lorenzo on the Victory Podium
MotoGP2012 Race Schedule
Race
Date
Jorge Lorenzo
Ben Spies
Rd.1
Qatar GP
April 8th
Winner
11th place
Rd.2
Spanish GP
April 29th
2nd place
11th place
Rd.3
Portuguese GP
May 6th
2nd place
8th place
Rd.4
French GP
May 20th
Winner
16th place
Rd.5
Catalunya GP
June 3rd
Winner
10th place
Rd.6
British GP
June 17th
Winner
5th place
Rd.7
Dutch TT
June 30th
DNF
4th place
Rd.8
German GP
July 8th
2nd place
4th place
Rd.9
Italian GP
July 15th
Winner
11th place
Rd.10
United States GP
July 29th
2nd place
DNF
Rd.11
Indianapolis GP
August 19th
2nd place
DNF
Rd.12
Czech GP
August 26th
2nd place
DNF
Rd.13
San Marino GP
September 16th
Winner
5th place
Rd.14
Aragon GP
September 30th
2nd place
5th place
Rd.15
Japan GP
October 14th
2nd place
DNF
Rd.16
Malaysian GP
October 21th
2nd place
DNF
Rd.17
Australian GP
October 28th
2nd place
-
Rd.18
Valencian GP
November 11th