Yamaha Factory Racing Takes One-Two Finish at the First Round of MotoGP!
The EXEDY sponsored Yamaha Factory Racing team rider Jorge Lorenzo finished first place as his teammate Valentino Rossi come in second, giving the team a one-two finish in the first round of racing this season.

Jorge Lorenzo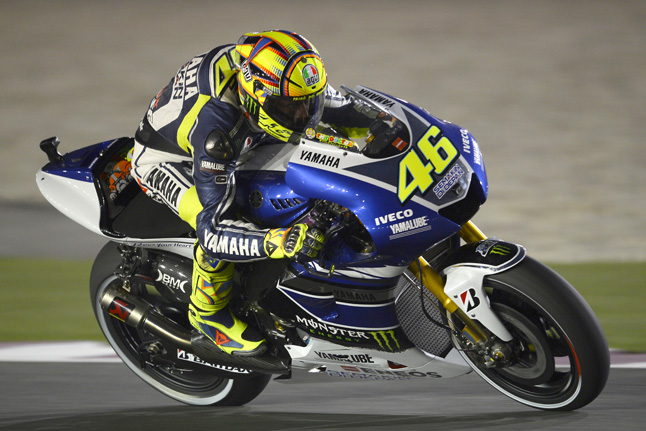 Valentino Rossi
Being quickest in qualifying landed Lorenzo in P1 for the start of the race and left him unchallenged until the checker flag giving him his second consecutive win at Qatar.
Although Rossi qualified 7th, he turned up the pace on the last three laps and made his way to second place at the finish line.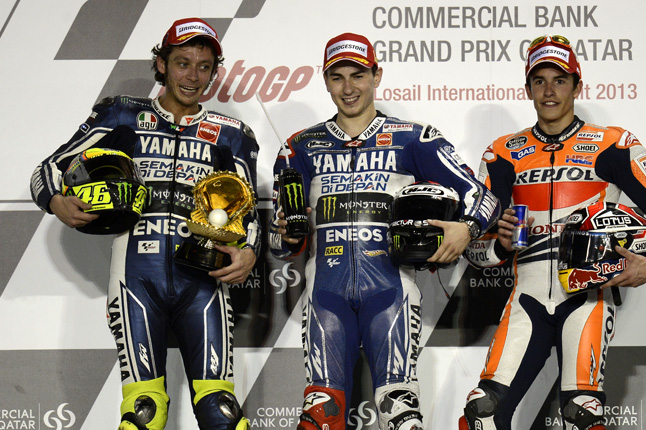 Valentino Rossi (left) and Jorge Lorenzo (middle) on the victory podium.
MotoGP 2013 Race Schedule
Race
Date
Jorge Lorenzo
Valentino Rossi
Rd.1
Qatar GP
4/7
Winner
2nd place
Rd.2
Americas GP
4/21
Rd.3
Spanish GP
5/5
Rd.4
French GP
5/19
Rd.5
Italian GP
6/2
Rd.6
Catalunya GP
6/16
Rd.7
Dutch TT
6/29
Rd.8
German GP
7/14
Rd.9
U.S. GP
7/21
Rd.10
Indianapolis GP
8/18
Rd.11
Czech GP
8/25
Rd.12
British GP
9/1
Rd.13
San Marino GP
9/15
Rd.14
Aragon GP
9/29
Rd.15
Malaysian GP
10/13
Rd.16
Australian GP
10/20
Rd.17
Japan GP
10/27
Rd.18
Valencian GP
11/10
For more detail, visit the YAMAHA FACTORY RACING official website.
■http://www.yamahamotogp.com