MotoGP Round 7, YAMAHA FACTORY RACING V. Rossi wins!
Rossi charged to his 80th MotoGP victory in the seventh round of MotoGP in Assen, Netherlands on June 28th, 2013.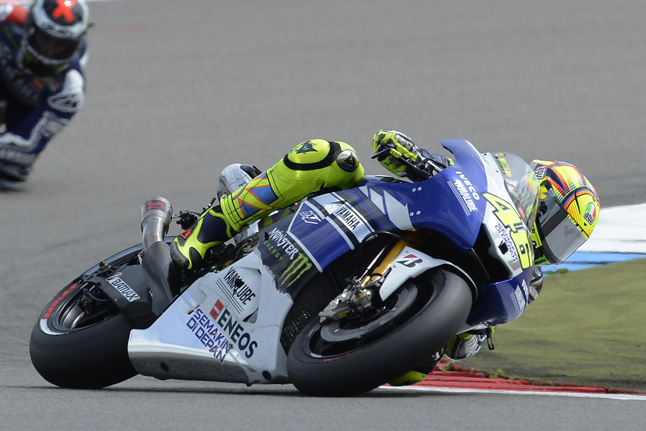 Valentino Rossi
The EXEDY supported YAMAHA FACTORY RACING rider started in the fourth spot and made his way to first by the 6th lap and took the checkered flag with a 2.1 second lead ahead of his closest competitor.
Team mate Jorge Lorenzo, having surgery on a fractured clavicle just 36 hours before the race, was able to finish a strong 5th place.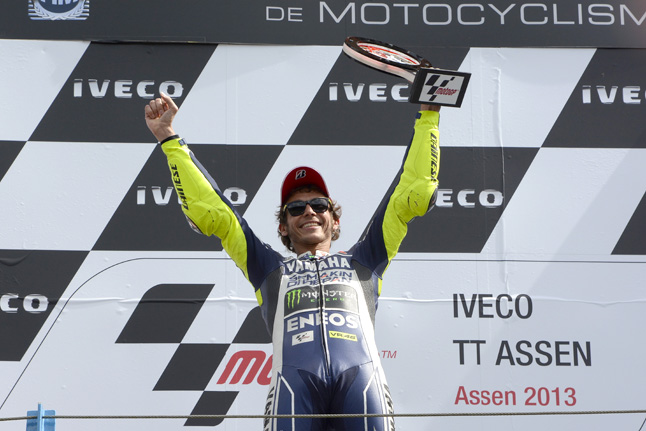 Valentino Rossi on the victory podium.
MotoGP 2013 Race Schedule
Race
Date
Jorge Lorenzo
Valentino Rossi
Rd.1
Qatar GP
4/7
Winner
2rd place
Rd.2
Americas GP
4/21
3rd place
6th place
Rd.3
Spanish GP
5/5
3rd place
4th place
Rd.4
French GP
5/19
7th place
12th place
Rd.5
Italian GP
6/2
Winner
DNF
Rd.6
Catalunya GP
6/16
Winner
4th place
Rd.7
Dutch TT
6/29
4th place
Winner
Rd.8
German GP
7/14
Rd.9
U.S. GP
7/21
Rd.10
Indianapolis GP
8/18
Rd.11
Czech GP
8/25
Rd.12
British GP
9/1
Rd.13
San Marino GP
9/15
Rd.14
Aragon GP
9/29
Rd.15
Malaysian GP
10/13
Rd.16
Australian GP
10/20
Rd.17
Japan GP
10/27
Rd.18
Valencian GP
11/10
For more detail, visit the YAMAHA FACTORY RACING official website.
■http://www.yamahamotogp.com