Round 12 of MotoGP 2013 - YAMAHA FACTORY RACING Lorenzo takes his 4th win this season!
On September 1, 2013, MotoGP's Jorge Lorenzo of YAMAHA FACTORY RACING which Exedy is supporting made his 4th season win in the 12th round at the Britian GP.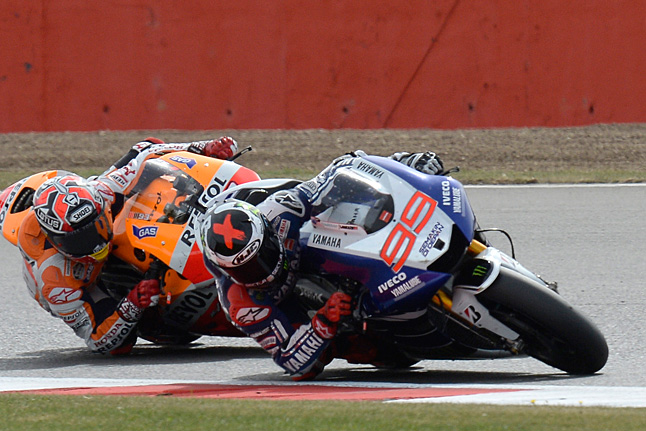 Lorenzo started from second and took the hole shot and battled hard to control the back and stay in the lead while crossing the checkered flag.
Teammate, Valentino Rossi finished in a well earned 4th place.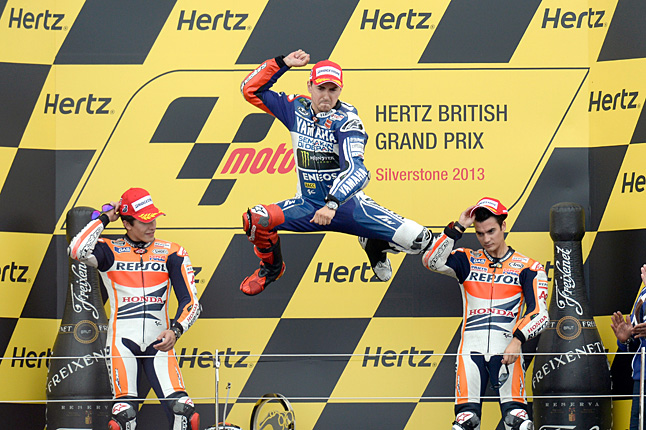 Lorenzo on the podium
MotoGP 2013 Race Schedule
Race
Date
Jorge Lorenzo
Valentino Rossi
Rd.1
Qatar GP
4/7
Winner
2rd place
Rd.2
Americas GP
4/21
3rd place
6th place
Rd.3
Spanish GP
5/5
3rd place
4th place
Rd.4
French GP
5/19
7th place
12th place
Rd.5
Italian GP
6/2
Winner
DNF
Rd.6
Catalunya GP
6/16
Winner
4th place
Rd.7
Dutch TT
6/29
4th place
Winner
Rd.8
German GP
7/14
-
3rd place
Rd.9
U.S. GP
7/21
6th place
3rd place
Rd.10
Indianapolis GP
8/18
3rd place
4th place
Rd.11
Czech GP
8/25
3rd place
4th place
Rd.12
British GP
9/1
Winner
4th place
Rd.13
San Marino GP
9/15
Rd.14
Aragon GP
9/29
Rd.15
Malaysian GP
10/13
Rd.16
Australian GP
10/20
Rd.17
Japan GP
10/27
Rd.18
Valencian GP
11/10
For more detail, visit the YAMAHA FACTORY RACING official website.
■http://www.yamahamotogp.com