Lorenzo wins the 16th round of MotoGP 2013 with YAMAHA FACTORY RACING for the 6th time this season and 50th career victory!
October 20, 2013 – Jorge Lorenzo made short work of the Australian GP with YAMAHA FACTORY RACING as they took their 6th victory this season. Jorge also made personal history for himself as he became only the 7th person eve to have 50 career victories.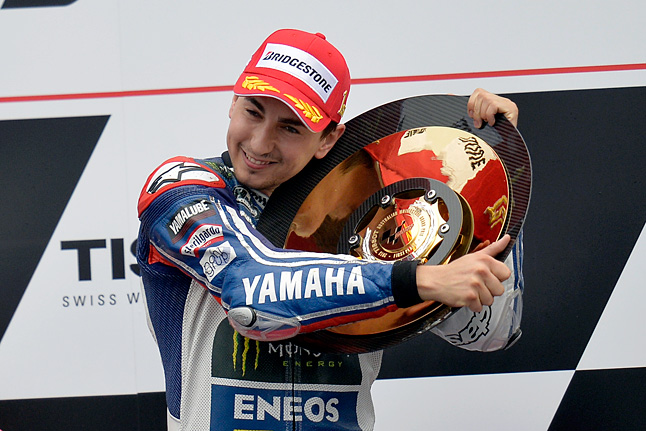 Through Lornezo's pole-to-win performance, he shortened the distance with the championship point leader to close 18 points. The riders will continue their fight for the title on October 27th, 2913 at the Japan GP Twin Ring Motegi circuit.
Teammate Valentino Rossi finished third place to join Lorenzo on the winner's podium.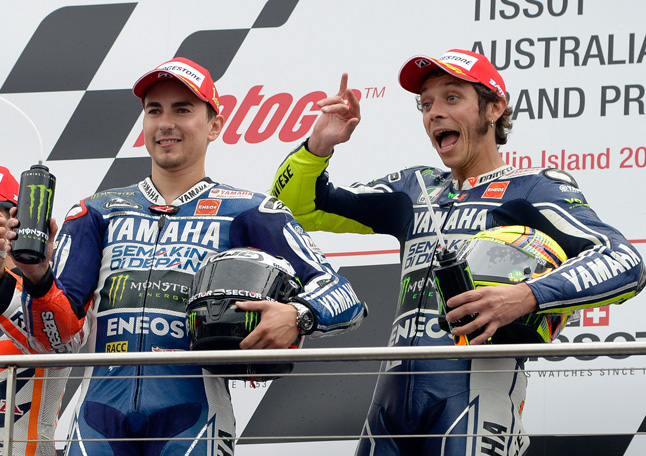 Lorenzo (left) and Rossi (right) on the winners' platform
MotoGP 2013 Race Schedule
Race
Date
Jorge Lorenzo
Valentino Rossi
Rd.1
Qatar GP
4/7
Winner
2nd place
Rd.2
Americas GP
4/21
3rd place
6th place
Rd.3
Spanish GP
5/5
3rd place
4th place
Rd.4
French GP
5/19
7th place
12th place
Rd.5
Italian GP
6/2
Winner
DNF
Rd.6
Catalunya GP
6/16
Winner
4th place
Rd.7
Dutch TT
6/29
4th place
Winner
Rd.8
German GP
7/14
-
3rd place
Rd.9
U.S. GP
7/21
6th place
3rd place
Rd.10
Indianapolis GP
8/18
3rd place
4th place
Rd.11
Czech GP
8/25
3rd place
4th place
Rd.12
British GP
9/1
Winner
4th place
Rd.13
San Marino GP
9/15
Winner
4th place
Rd.14
Aragon GP
9/29
2nd place
3rd place
Rd.15
Malaysian GP
10/13
3rd place
4th place
Rd.16
Australian GP
10/20
Winner
3rd place
Rd.17
Japan GP
10/27
Rd.18
Valencian GP
11/10
For more detail, visit the YAMAHA FACTORY RACING official website.
■http://www.yamahamotogp.com