Movistar Yamaha MotoGP's Jorge Lorenzo nabs his second consecutive first place victory at the 15th round of the MotoGP!
On October 12th, 2014, Movistar Yamaha MotoGP's Jorge Lorenzo, who is supported by EXEDY, snagged his second consecutive victory at the Motul Grand Prix of Japan held at Twin Ring Motegi. Lorenzo's teammate, Valentino Rossi, was able to get third place, securing himself a spot on the winners podium alongside Lorenzo.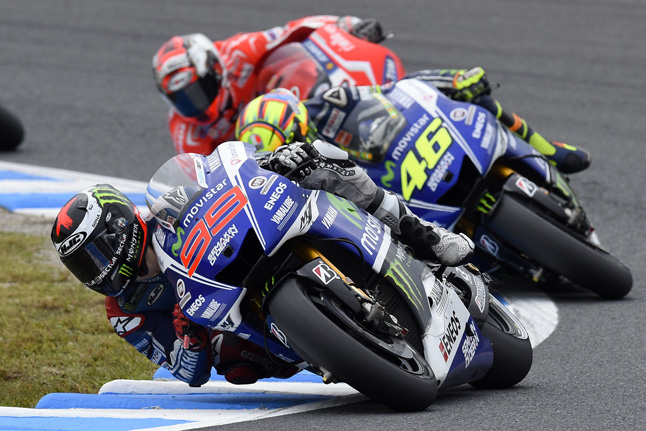 Lorenzo, who began the race in the second row, began with a great start, finding himself in third place at the first turn of the course. On the fourth lap he overtook his teammate Rossi, moving himself up to first place. Afterwards, he did exceptionally well, breaking the lap record for the course, all the while steadily increasing his lead and crossing the finish line in first place.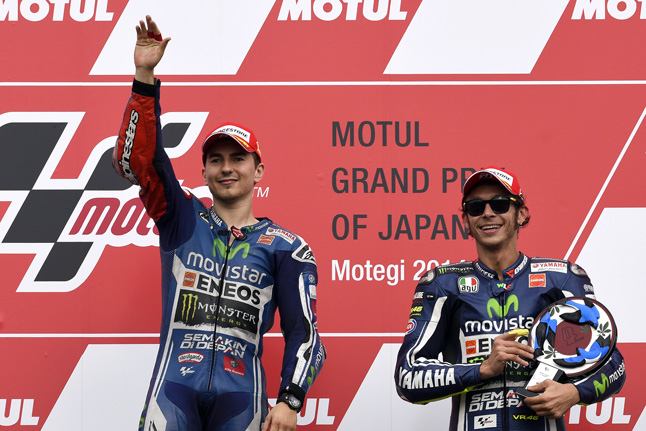 Jorge Lorenzo (right) on the winners podium
MotoGP 2014 Race Schedule
Race
Date
Jorge
Lorenzo
Valentino
Rossi
1st Round
Commercial Bank Grand Prix of Qatar
March 23rd
2nd Place
Dropped Out
2nd Round
Red Bull Grand Prix of the Americas
April 13th
8th Place
10th Place
3rd Round
Gran Premio Red Bull de la República Argentina
April 27th
4th Place
3rd Place
4th Round
Gran Premio bwin de España
May 4th
2nd Place
4th Place
5th Round
Monster Energy Grand Prix de France
May 18th
2nd Place
6th Place
6th Round
Gran Premio d'Italia TIM
June 1st
3rd Place
2nd Place
7th Round
Gran Premi Monster Energy de Catalunya
June 15th
2nd Place
4th Place
8th Round
Iveco Daily TT Assen
June 28th
5th Place
13th Place
9th Round
Eni Motorrad Grand Prix Deutschland
July 13th
4th Place
3rd Place
10th Round
Red Bull Indianapolis Grand Prix
August 10th
3rd Place
2nd Place
11th Round
Bwin Grand Prix České republiky
August 17th
3rd Place
2nd Place
12th Round
Hertz British Grand Prix
August 31st
3rd Place
2nd Place
13th Round
GP TIM di San Marino e della Riviera di Rimini
September 14th
1st Place
2nd Place
14th Round
Gran Premio Movistar de Aragón
September 28th
Dropped Out
1st Place
15th Round
Motul Grand Prix of Japan
October 12th
3rd Place
1st Place
16th Round
Tissot Australian Grand Prix
October 19th
17th Round
Shell Advance Malaysian Motorcycle Grand Prix
October 26th
18th Round
Gran Premio Generali de la Comunitat Valenciana
November 9th
For more detail, visit the Movistar Yamaha MotoGP official website.
■http://www.yamahamotogp.com