EXEDY employee Ai Miura takes home first for the N Class at the opening race of the
Japanese Formula 3 Championship!
Ai Miura, who is employed in EXEDY's CSR ・Public Relations Department, took home first place at the 2015 Japanese Formula 3 Championship, which is the second time in her racing career, on April 18th, 2015.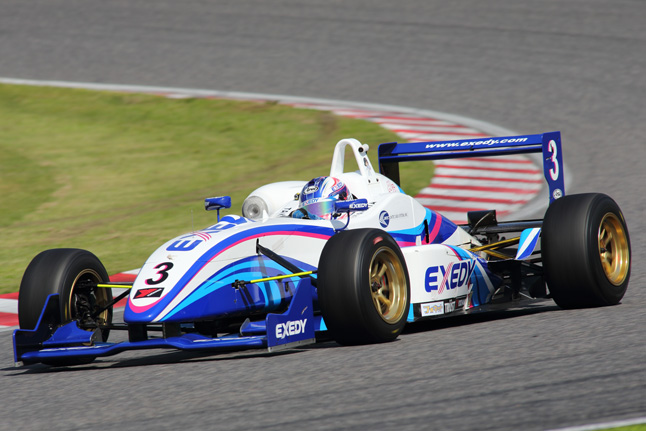 Miura, who placed second during the preliminary race, found herself in first at the start of the round. She stayed in that position until the end of the race, crossing the finish line and securing herself first place.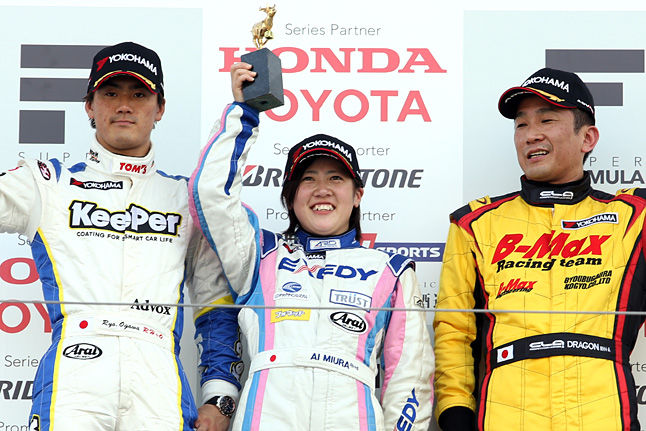 Miura on the winners podium (center)
Miura found her way back to the winners podium at the second round, which was held on April 19th, after finishing the race in second.
2015 Japanese Formula 3 Championship Race Schedule
Race
Location
Date
Result
Round 1
Suzuka Circuit
April 18th
1st
Round 2
April 19th
2nd
Round 3
Twin Ring Motegi
May 9th
Round 4
May 10th
Round 5
May 10th
Round 6
Okayama International Circuit
May 23rd
Round 7
May 24th
Round 8
Fuji International Speedway
June 6th
Round 9
June 7th
Round 10
Okayama International Circuit
June 27th
Round 11
June 28th
Round 12
Fuji International Speedway
July 18th
Round 13
July 19th
Round 14
Twin Ring Motegi
August 22nd
Round 15
August 23rd
Round 16
Sportsland SUGO
October 17th
Round 17
October 18th