Ai Miura places first for the fourth time in a row at the Solar Car Race Suzuka 2015!
EXEDY employee Ai Miura, who works in our CSR ・ Public Relations Department, obtained an overall ranking of first place for her fourth year in a row at FIA's Solar Car Race Suzuka 2015, which was held from July 31, 2015, to August 1, 2015, at Suzuka Circuit's International Racing Course. She raced as a driver for the Osaka Sangyo University Team, which is the team of her alma mater.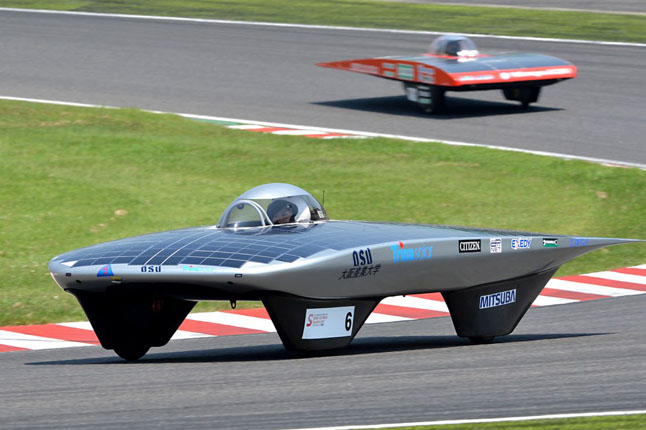 Miura, the first driver for the team, started the race in second but soon found herself in first. She kept up a steady pace, further opening the distance between her and the driver in second, and, after driving for three out of the race's five hours, she swapped with the team's second driver.
After the switch, the team finished the race without ever yielding the lead, netting the Osaka Sangyo University Team with their fourth first-place victory in a row and their ninth victory overall.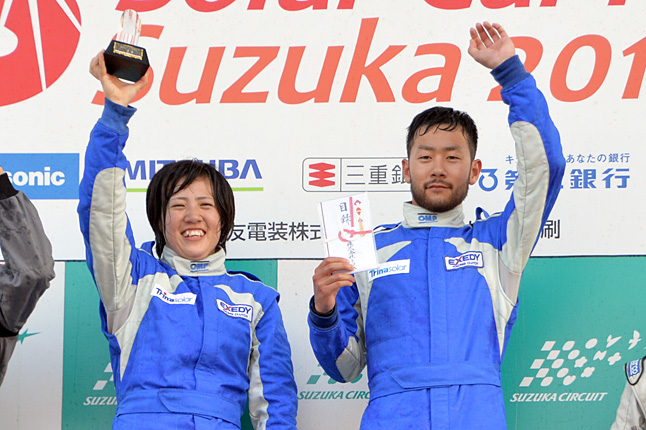 Ai Miura on the winners podium (left)