Valentino Rossi nets his fourth win at the 12th round of the 2015 MotoGP!
On August 30, 2015, Valentino Rossi, who races for the EXEDY-sponsored Movistar YAMAHA MotoGP team, netted his fourth victory of the season at the British Motorcycle Grand Prix.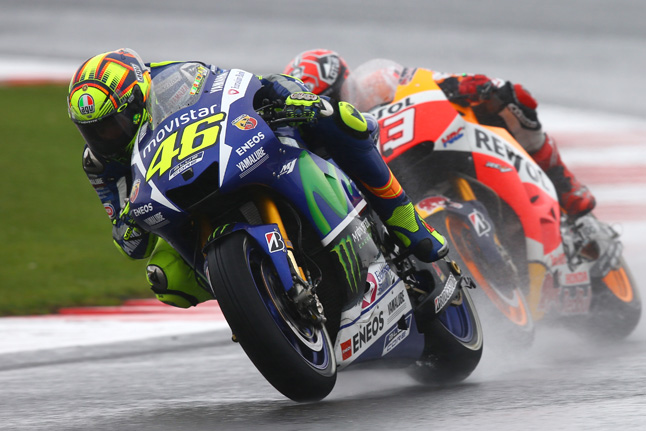 Valentino Rossi
Rossi, who found himself racing in wet conditions, started the race in fourth, and, during the second lap of the race, took the lead and kept it for the remainder of the race. This was his first ever victory at Silverstone.
His teammate, Jorge Lorenzo, crossed the finish line in fourth place.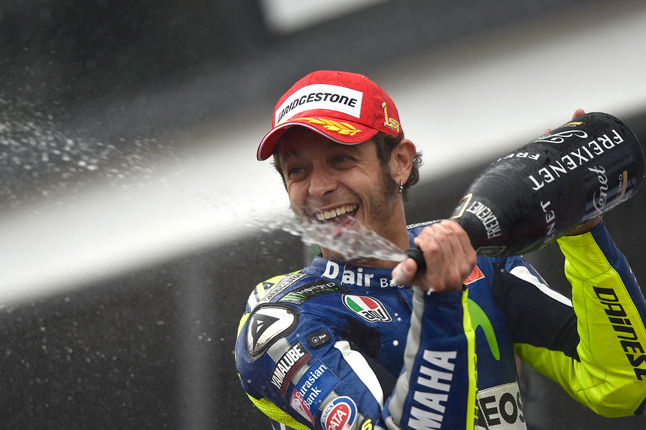 Rossi spraying champagne on the winners podium
MotoGP 2015 Race Calendar
Race
Date
Rossi
Lorenzo
Round 1
Qatar Motorcycle Grand Prix
March 29th
1st
4th
Round 2
Grand Prix of the Americas
April 12th
3rd
4th
Round 3
Argentine Motorcycle Grand Prix
April 19th
1st
5th
Round 4
Spanish Motorcycle Grand Prix
May 3rd
2nd
1st
Round 5
Grand Prix Monster Energy de France
May 17th
2nd
1st
Round 6
Italian Motorcycle Grand Prix
May 31st
3rd
1st
Round 7
Catalan Motorcycle Grand Prix
June 14th
2nd
1st
Round 8
Dutch TT (Tourist Trophy)
June 27th
1st
3rd
Round 9
German Motorcycle Grand Prix
July 12th
3rd
4th
Round 10
Indianapolis Grand Prix
August 9th
3rd
2nd
Round 11
Czech Republic Motorcycle Grand Prix
August 16th
3rd
1st
Round 12
British Motorcycle Grand Prix
August 30th
1st
4th
Round 13
San Marino and Rimini Coast's Motorcycle Grand Prix
September 13th
Round 14
Aragon Motorcycle Grand Prix
September 27th
Round 15
Japanese Motorcycle Grand Prix
October 11th
Round 16
Australian Motorcycle Grand Prix
October 18th
Round 17
Malaysian Motorcycle Grand Prix
October 25th
Round 18
Valencian Community Motorcycle Grand Prix
November 8th
For more details, please check out Movistar YAMAHA MotoGP's official website.
■http://www.yamahamotogp.com