Here is the coverage of the third round of the 2011 EXEDY CUP OPTION2 Endurance Race.

Through the generosity of donations collected along with the revenue generated from the sales of EXEDY merchandise at the race, we were able to collect 25,210 yen to donate to the Japan Red Cross.

The second round of the UNLIMITED class series was held on one of the hottest days of summer. Thirty-two team entrees had battled out for 3 consecutive hours, putting man and machine through fierce battles and furious conditions lap after lap.

The 3-hour endurance race of midsummer challenged more than only the drivers as mechanics and crew had to strategically plan driver changes as well as pit stops for fuel and fluids.
Teams within the UNLIMITED class fought point-for-point as this would be the only round before the year-end December race.
The safety car had also ran its share of laps during the multiple cautions as numerous course-outs and crashes had put the teams in the pits to work mending the cars.
UNLIMITED Class
Congratulations to the PIT ROAD M BRUCE GTO MOTYS team for dominating UNLIMITED class!!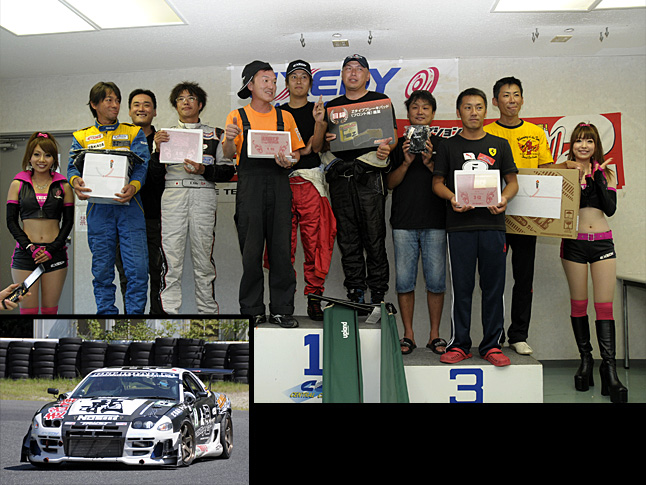 First place: #3
Second place: #15
Third place: #2
EXPERT NA Class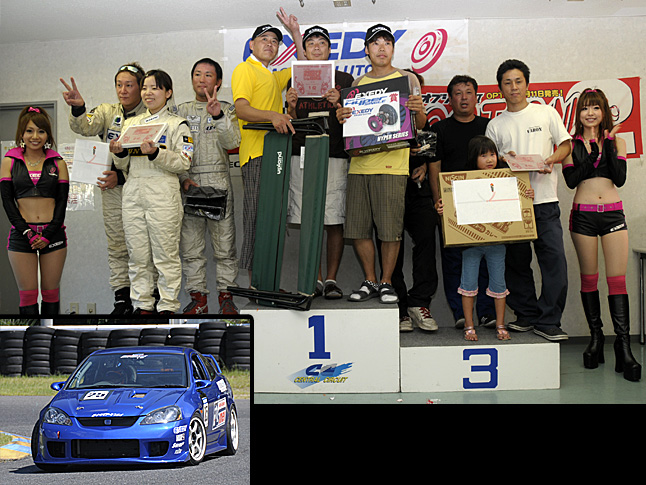 First place: #25
Second place: #22
Third place: #11
The winners of the EXPERT NA class is the YAMATO FS・ARS・DC5 team! The congratulatory prize this time was an EXEDY HYPER SINGLE CLUTCH!
EXPERT TURBO Class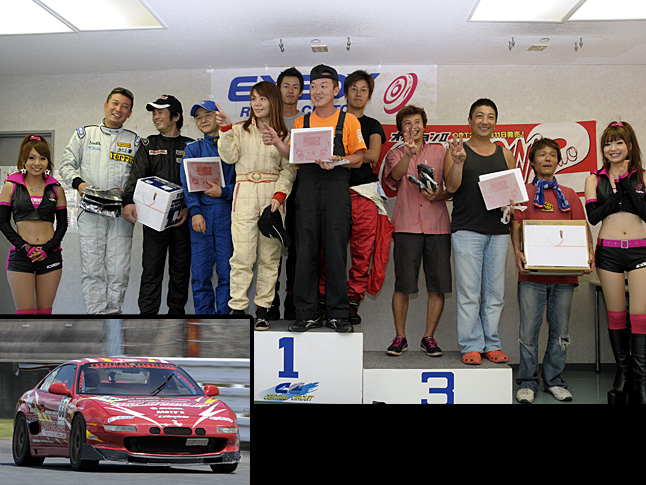 First place: #33
Second place: #12
Third place: #7
COMPACT NA Class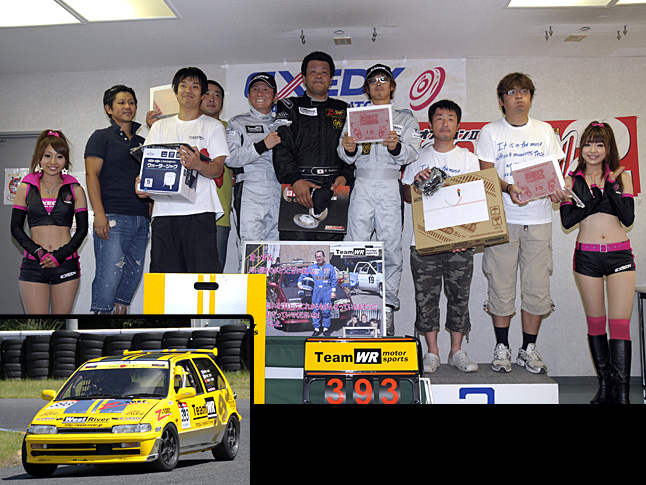 First place: #393
Second place: #28
Third place: #20
Please be sure to view the MOTOR SPORTS SUPPORT / Photo & Movie page to check out pictures of all the cars entered into the race.
Thanks to all those who have participated to make a fun and exciting third round of the EXEDY CUP OPTION2 Endurance Race Series!!

The next race will be held at held on October 8th (Saturday) at Central Circuit where the S Endurance class, Freshman class and Compact NA endurance will be underway. This event will also be held as a charity event to support the relief of eastern Japan.
Participation only requires a regular driver's license, allowing anyone to participate in the fun and competition of wheel to wheel endurance racing!
Please visit the SIDE PONTOON homepage for entry.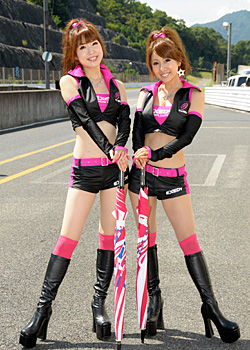 Rie Ukai
Ami Otsuka

The EXEDY RACING GIRLS were out on pit road as all drivers took the track as well as were in the EXEDY booth attending the lottery game, selling EXEDY merchandise and collection donations with their bright smiles livening up the track atmosphere.